Welcome to AIA's United States Website
The Association for International Arbitration (AIA) works towards the promotion of alternative dispute resolution (ADR) AIA focuses on arbitration as a means of dispute resolution and strives to bring together the global community in this field, including judges, lawyers, arbitrators, mediators and academics as well research scholars and students. With this unique blend of people, it is our goal to inculcate an interest in ADR in the professional sphere and among budding professionals in law schools and universities all around the globe. AIA is not an arbitration institute and does not make any appointment.
In addition to its commitment to arbitration, AIA is also involved in mediation through its Network of Mediation Centres. The Network aims at the sharing of information and good practices in order to promote the use of mediation, increase the quality of mediation and mediators and most importantly, enhance the general public awareness to seek mediation as a common practice in resolving both border and cross-border disputes.

New Directive of the european parliament (dd March 12, 2013)
The Directive of the European parliament and of the council on alternative dispute resolution for consumer disputes and amending Regulation (March 12, 2013) can be downloaded here:
The Association for International Arbitration cordially invites you to our Brainstorming on the future of Mediation in Belgium.
Do not hesitate to contact us if you have any questions or suggestions. If you are not yet a member of AIA, you are invited to become a part of our growing international circle of ADR professionals.
Please find the invitation and registration form here:
Latest AIA Publication
European Mediation Training for Practitioners of Justice (with DVD)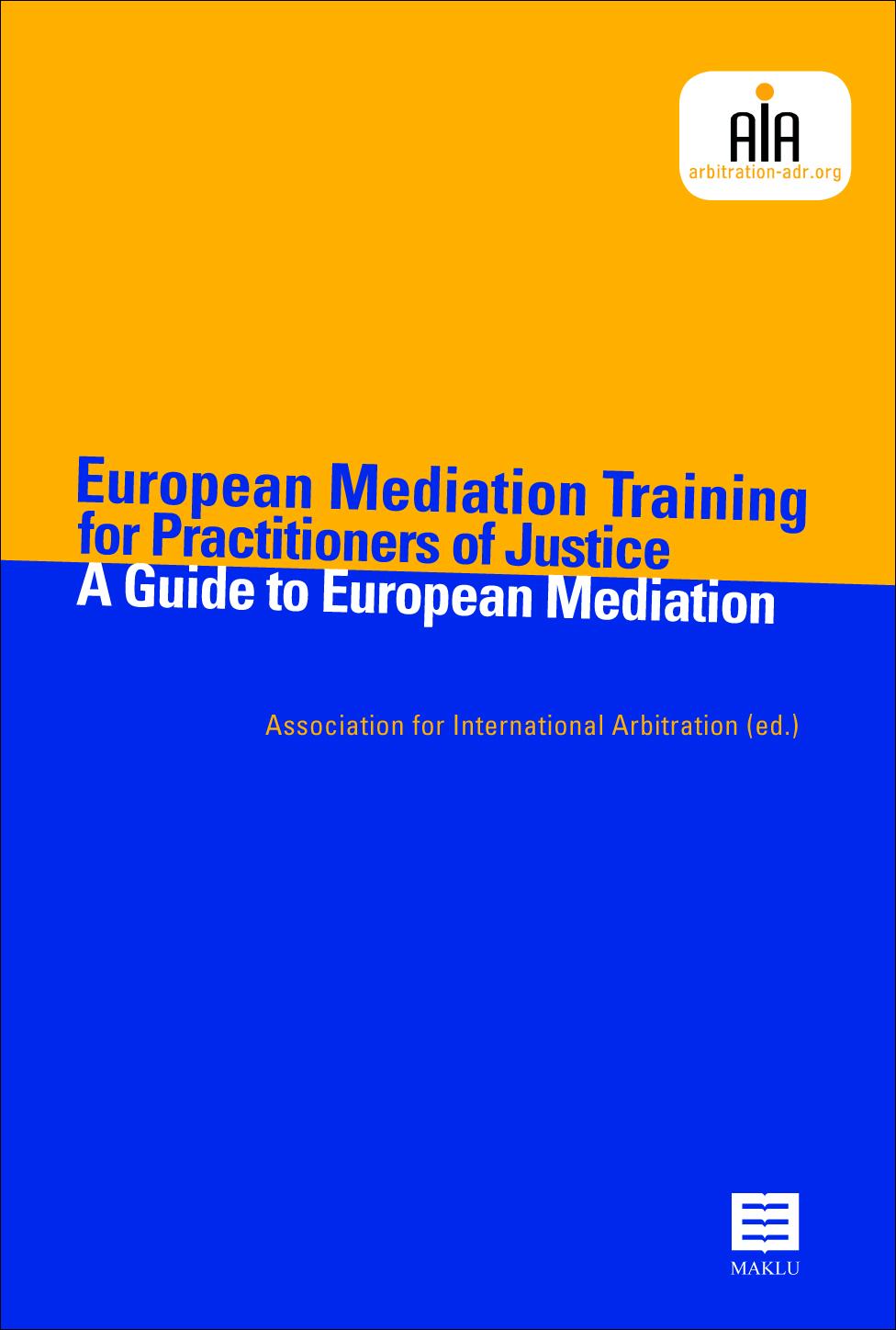 The course "European Mediation Training for Practitioners of Justice"©, organised by the Association for International Arbitration, can be regarded as a milestone for mediation in Europe because, among others, it allows successful participants to apply for accreditation throughout the whole EU and establishes, thereby, a category of truly 'European Mediators'. The book and the enclosed DVD are the result of this 100-hour course program, divided into theoretical and practical parts. The topics in the book vary from more general, such as differences between mediation and litigation or role of a mediator, to such specific practical issues as a refusal to mediate, dealing with deadlocks, and multiparty mediation. Articles in this book have been authored by recognized mediation professionals working in different jurisdictions across the EU and providing EMTPJ training sessions. This book may be regarded as the unique guide on mediation in Europe and on how to become an EU qualified mediator. It is of particular interest for those willing to practice mediation. The enclosed DVD contains a mock mediation conducted during a regular practical session of EMTPJ 2011, which is commented by one of the EMTPJ lecturers.
New EU Directive on Mediation in Cross-Border civil and commercial matters
"Directive 2008/52/EC of 21 May 2008 of the European Parliament and of the Council on certain aspects of mediation in civil and commercial matters"
The objective of this Directive is to facilitate access to alternative dispute resolution and to promote the amicable settlement of disputes by encouraging the use of mediation. This Directive applies, in cross-border disputes in the EU (with the exception of Denmark), to civil and commercial matters except in regards to rights and obligations which are not at the parties' disposal under the relevant applicable law. It shall not extend, in particular, to revenue, customs or administrative matters or to the liability of the State for acts and omissions in the exercise of State authority.


Network
AIA is winner of the 2012 Corporate Intl Magazine Global as 'International Arbitration, Association of the Year in the World'