Xi'an Arbitration Commission is a new-style arbitral institution reconstituted by Xi'an People's Government pursuant to the Arbitration Law of People's Republic of China and the Administrative regulations of China State Council. On 29th May 2008, Xi'an Arbitration Commission will organize a Xi'an On-line Arbitration Training for 110 delegates who will gather in order to participate in the EU-China Information Society Project.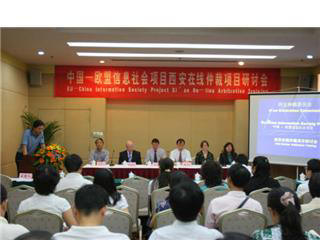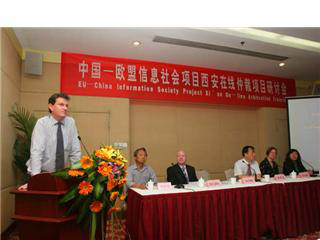 All the attendants will be well informed from this seminar in which the EU legal and technical experts of the EU-China Information Society Project will provide us with interesting speeches and presentations. An interactive discussion concerning the various problems of online arbitration will also be held. The EU-China Information Society Project was set up between the EU and the Chinese Government in mid-2005 to support 'Informatization' in China. One of the aims of the Project is to support the development of a regulatory framework for Informatization that provides for reliable investment, economic and social improvement and the maximization of benefits to Chinese citizens through the new opportunities brought about by the transformation to an Information Society.The Online arbitration project belongs to the first part of the components of EU-China Information Society Project, 'Regulations Communication Support'. Sponsored by SCITO an SC-LAO, the online arbitration project is to study the academia and practical achievements of EU concerning online arbitration, analyze legal issues in amendment of Chinese Arbitration Law and drafting online arbitration rules and make proposal for establish online arbitration system in China.
In the training, Dr. Julia Hoernle, Tenured Lecturer, Centre for Commercial Law Studies, University of London will introduce EU experiences on Online Arbitration and Online Dispute Resolution, Niall Lawless, Chartered Arbitrator and Information Systems Engineer, Member of the Chartered Institute of Arbitrators' Board of Trustees, will report Requirements definition for China's Online Arbitration System and Professor Wang Xiaochuan, Party president of Law School, University of International Business and Economics will talk about Online Arbitration and ODR in Chins today – status quo and open questions.
This training is the initiation of Xi'an Arbitration Commission to practice the information technology in the arbitration procedure. For more information click here.