AIA Conference
International Conference "Entrusting Antitrust Issues to Arbitration"
Planning:
Place:
Le Palais de justice, Brussels ( Place Poelaert 1, 1000 Bruxelles)
Time:
12:00 PM - 20:30 PM
12.00 - 12:15 Registration with coffee and sandwiches
12:15 - 12:30 Conference opening: Johan Billiet / Philippe Billiet
12:30 - 12:50 Key-note address
12:50 - 14:00 Session 1 - ARBITRATION IN MERGER CONTROL
Moderator: Marc Blessing
Panelists: Janice Feigher, Bart Volders, Manuel Penadés
14:00 - 14:15 Coffee break
14:15 - 16:30 Session 2 - EU COMPETITION LAW BEFORE ARBITRATORS AND THE FUTURE OF PRIVATE ANTITRUST ENFORCEMENT IN EUROPE
Moderator: Iuliana Iancu
Panelists: Assimakis Komninos, Gordon Blanke, Marc Blessing
16:30 - 16:45 Coffee break
16:45 - 18:15 Session 3 - COURT REVIEW OF ARBITRAL AWARDS DEALING WITH EU COMPETITION LAW ISSUES
Moderator: Tatiana Proshkina
Panelists: Christoph Liebscher, Luca Radicati di Brozolo, Renato Nazzini
18:15 - 18:30 Concluding remarks
18:30 - 20:30 Networking event
Would your firm like to become a sponsor?
Sponsorship will provide your organization with high visibility before, during, and after this international event, allowing you to join other leading organizations in reaching the global antitrust and international arbitration communities. The "Entrusting Antitrust Issues to Arbitration" conference will have broad international reach, featuring prominent expert speakers from diverse backgrounds and attracting participants from all over the world.
Our sponsors will be proudly displayed on the range of conference marketing materials that will be widely distributed and in the conference notices and hand-outs. There is a base sponsor fee and there are also opportunities for your firm to sponsor particular events such as coffee-breaks and a networking cocktail. It is also possible sponsor conference gifts to participants.
To become a sponsor or for questions regarding the different sponsorship opportunities, please contact Tatiana Proshkina at tatiana.proshkina@arbitration-adr.org or Olivia Staines at olivia.staines@arbitration-adr.org.
Media Partners
Young Arbitrators in Belgium Blog
The Young Arbitrators in Belgium Blog primarily aims to provide timely and relevant analysis and updates on arbitration & mediation issues and developments in Belgium. It also review and report on the work of the EU institutions in the area of ADR. Also, it publishes a series of interviews with the leading dispute resolution experts from law firms, institutions and academia.

See www.youngarbitratorsbelgium.com for more information
Transnational Dispute Management
Transnational Dispute Management (TDM, ISSN 1875-4120) is a comprehensive and innovative information service on the management of international disputes, with a focus on the rapidly evolving area of investment arbitration, but also in other significant areas of international investment (such as oil, gas, energy, infrastructure, mining, utilities etc).
It deals both with formal adjudicatory procedures (mainly investment and commercial arbitration), but also mediation/ADR methods, negotiation and managerial ways to manage transnational disputes efficiently.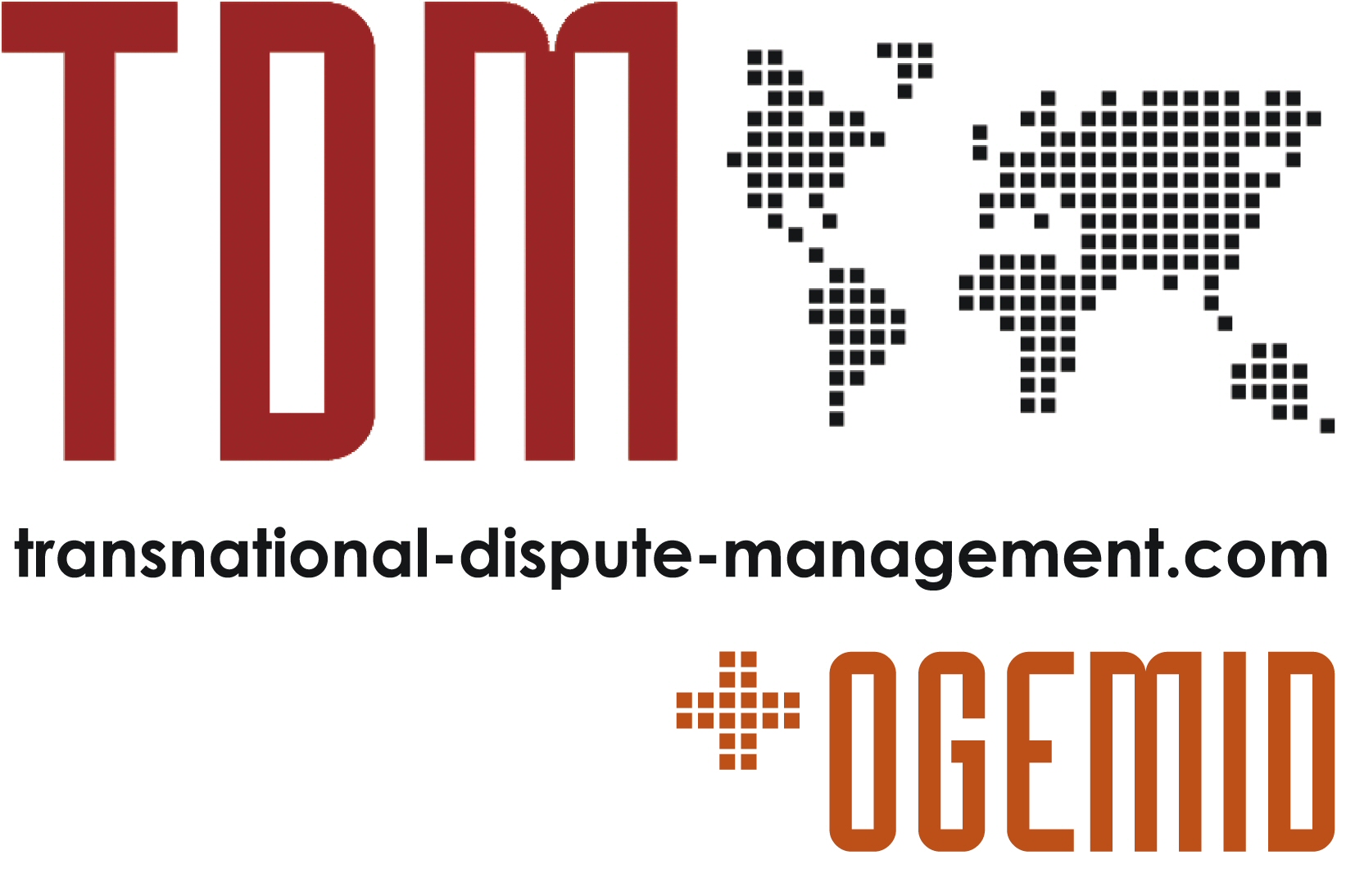 See www.transnational-dispute-management.com for more information.