AIA Conference
The Future of Investment Arbitration in Europe
On 1 June 2018, the Association for International Arbitration (AIA) will organise a one-day conference on The Future of Investment Arbitration in Europe. The panellists will provide a comprehensive overview of issues pertinent to investment arbitration, reflections on challenges posed by cultural crossroads and insight into future developments.
Subjects:
09:00 Registration
09:30-11:00 FIRST PANEL - co-chaired by Mr. Johan Billiet & Prof. Nikos Lavranos: Intra-EU BITs: A way forward after Achmea.
11:00-11:30 Coffee break
11:30-13:00 SECOND PANEL - chaired by Mr. Diego Brian Gosis: The invasion of the common lawyers: has international arbitration lost its trans-systemic character?
13:00-14:00 Lunch
14:00-15:30 THIRD PANEL - chaired by Dr. Todd Weiler: Investment Court Model: A Practical Review.
15:30-16:00 Coffee break
16:00-17:30 FOURTH PANEL - chaired by Mr. Graham Coop: Brexit and the Energy Charter Treaty.
17:30-18:30 Reception
IF YOU ARE A STUDENT, EMAIL US (administration@arbitration-adr.org) TO GET A SPECIAL DISCOUNT.
CONFIRMED SPEAKERS: Dr. Martins Paparinskis, Dr. Eric De Brabandere, Dr. Alejandro López- Ortiz, Ms. Saadia Bhatty, Mr. Andras Nemescsoi, Mr. David Kohegyi, Ms. Verónica Sandler, Mr. Grant Hanessian, Mr. Robert Volterra, Dr. Anna Plevri, Ms. Louise Woods, Dr. Richard Happ
Registration and payment: To subscribe for this conference please fill out our online form.
Media Partner
Transnational Dispute Management (TDM, ISSN 1875-4120) is a comprehensive and innovative information service on the management of international disputes, with a focus on the rapidly evolving area of investment arbitration, but also in other significant areas of international investment (such as oil, gas, energy, infrastructure, mining, utilities etc). It deals both with formal adjudicatory procedures (mainly investment and commercial arbitration), but also mediation/ADR methods, negotiation and managerial ways to manage transnational disputes efficiently. See http://www.transnational-dispute-management.com/ for more information. You can apply for a free OGEMID trial membership and students can sign up for Young-OGEMID (which is free)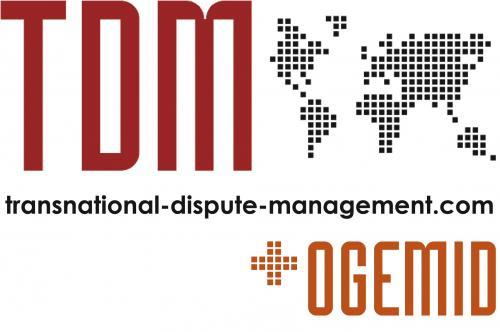 Documents regarding the Conference: